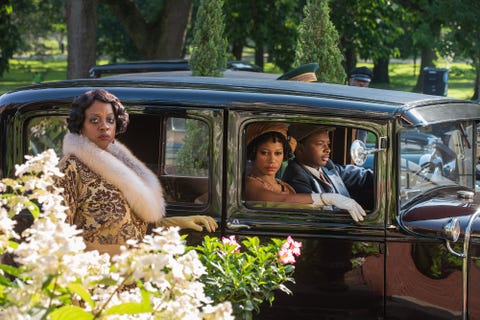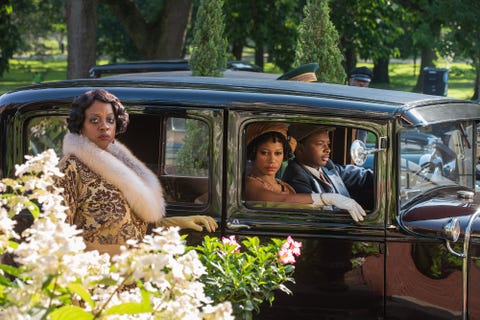 No question, 2020 has been a rough year for pretty much everyone, but the tail end of August was particularly terrible for Taylour Paige. When we connect over Zoom, just three days after the world learned her Ma Rainey's Black Bottom co-star Chadwick Boseman had died of colon cancer, Paige, understandably, is not quite sure how to respond when asked how she's doing. "Lordy," she says. "Let's take a deep breath together."
In Ma Rainey's Black Bottom, based on the August Wilson play and streaming now on Netflix, Paige plays Dussie Mae, the titular blueswoman's lover who's also caught the eye of Levee, an ambitious trumpeter played by Boseman. Dussie Mae and Levee are connected by a quest for freedom, Paige says, and so were the humans who played them. "He gave the cast gifts when we wrapped, and in my letter, he wrote, 'May you find prosperity in your freedom,'" she recalls.
Next summer, audiences will (finally) get to see Paige as the title character in Zola, Janicza Bravo's highly anticipated film based on an epic Twitter thread about a wild road trip two strippers took to Florida. Last week, A24 announced its release date with a cheeky reply to a Twitter user asking about Joe Biden's plan to release the film: "We did it, Joe. #Zola in theaters 6/30/21."
Zola and Ma Rainey's Black Bottom are "completely different," Paige says, but she doesn't think she would've been able to play Dussie had she not played Zola first. "Zola and Dussie both, regardless of their environment, have a sense of integrity as to who they are. Either it's, 'This is who I am, and I'm not doing that,' with Zola, or 'This is who I am, and I am,' with Dussie." Read on for more from Paige about how she gets into character and the one thing that makes her cry tears of joy—despite everything.
I'm so sorry about Chadwick. What is your most treasured memory of working with him?
Every time Chadwick spoke, he had something to say. I know that sounds really oversimplified, but he just spoke with such discipline and intentionality. He was also pure and gentle and asked really interesting questions. He was curious and, you know, one of us. Of course, you retrace your steps because now you know he was sick. And in the beginning, he [kept] to himself a bit more, and with his people. But by the time we worked together—we had a whole day together—we were so playful. There's a scene when my skirt goes up, and it was just fun, and he was just…beautiful. I felt so thankful at the end of the day. I was like, Thank you so much for allowing me to play. We had these moments, where I'm looking at him and he's looking at me, and he's like, "I'm gonna try it this way," and I'm like, "Whatever you want." It felt like we were holding each other's hands symbolically. I feel like he should win an Oscar just for acting like he was okay.
You play Ma Rainey's lover, but your character has a thing with Levee.
Yes, they're naughty. They have a little thing in the basement while the band is rehearsing, but we have chemistry throughout. We see each other. Both of our characters are on the quest for freedom, and that's essentially why they see each other. They're trying to get out, trying to live in their truth in a time where the world doesn't accept them because they're Black.
Are there any parallels to be drawn between Dussie Mae and Zola—maybe in how both women are familiar with the power of their beauty and sensuality?
I think I wouldn't have been able to play Dussie had I not played Zola. The sense of agency that I had to surrender to be Zola—for me, personally, I was beginning my Saturn return, and I was at the pinnacle of tough times but also stepping into who I really wanted to be, and letting, you know, the ghetto 20s drift away. I knew that to be Zola I had to stop apologizing for my space. To play this beautiful force, I had to own it. Throughout my life, I've always been someone who, when I receive a compliment, I'm like 'No,' or make it a joke. And Zola—Aziah—knows who she is and celebrates that. With Dussie, she's aware that the way people receive her is that she's unaware, but that's kind of her superpower. She's like, Oh, you guys think I don't see, but I'm actually an engaged observer, and I'm learning from all of you, and I'm definitely getting out of this situation. I'm gonna be free. I'm gonna find my way.
Have you met Aziah Wells, the writer of the Twitter thread?
She's like my sister. We lean on each other to this day. Janicza and I always joke that [Aziah and I] must have done a past life together because we're so divinely connected. Both of our cars broke down at the same time—weird life things were happening to both of us at the same time. I was in this weird in-between space in my personal life [when I first heard about the film]. I was like, what stories do I want to tell, and why am I telling them? There are a limited amount of scripts for a Black girl my age for things I actually care about. It's getting better, but it's a slow journey. And in being particular and intentional about what stories I want to tell, there have been times where I've been broke or in-between and I go back to working at the weed dispensary or this cool streetwear store or teaching kids acting or cleaning houses. I would much rather do that than some silly pilot about cops.
Had you seen the original Zola Twitter thread as it was happening?
I didn't see it in real-time—I'm not really active on Twitter. But she's an icon. The way she writes, I put her up there with, like, Toni Morrison. There's so much imagery and description and the voices—it's a very clear voice. When I first became aware of the script, it was very sexist and racist. I was like, "Eh, I don't know. The script just doesn't sound like this girl." I still did a tape, and my agent was like, 'Come on, it's probably going to go to Sundance. We need this." My agents are my family, but sometimes it's like, you're just pushing me to do this thing, and I'm fine not working right now even though I'm broke as hell. But she was like, "Just do the tape." So I do the tape, and they were like, "Whoa this is really, really good." But then the project went away. And then I got the Hustlers script, and I read it, and I was like, okay, it's based on a true story, it's about strippers…what happened with Zola? And my agent was like, "well it's coming back, but you didn't like it." But by then I was in a different place and wanted to give it new eyes. She was like, "Well okay, there's actually a new director and writer attached." And I'm like, "Well, that's important information!"
So I read it, and it's fantastic. And I do the tape again, and I go in and get a callback, and now I'm talking to Aziah through Instagram, and she's like, "You're so me, it hurts. I'm not taking no for an answer. Bitch, no one deserves this more than us." She was super supportive, and I felt really good that I had her blessing. When I found out I did get it, her mom reached out and was like, "We loved you, we were rooting for you, we're so happy."
That's amazing. Did you and Riley Keough bond on set? I read that you saw a shooting star together.
To this day, I've seen three shooting stars in my life. One with my boyfriend, and two with Riley in Florida. Right away, she was like, "You speak my language." We just get each other. She really is my best friend. We lean on each other a lot. We both feel like we're still figuring out how to surrender to being in these bodies. I've never had someone have the right language to explain how it is that I'm feeling at times, because, not to get all esoteric and weird, but I can't go many hours in a day without thinking about what the hell we're all doing here. Like, what is this place? It's just so bizarre. It's a beautiful world, but it's like we're in purgatory, this great in-between.
Both Riley and I, the only way we make sense of it is by empathizing with the people we play. And in