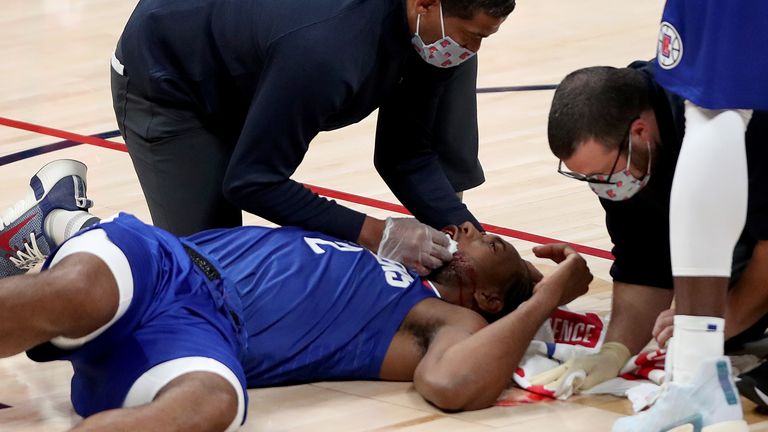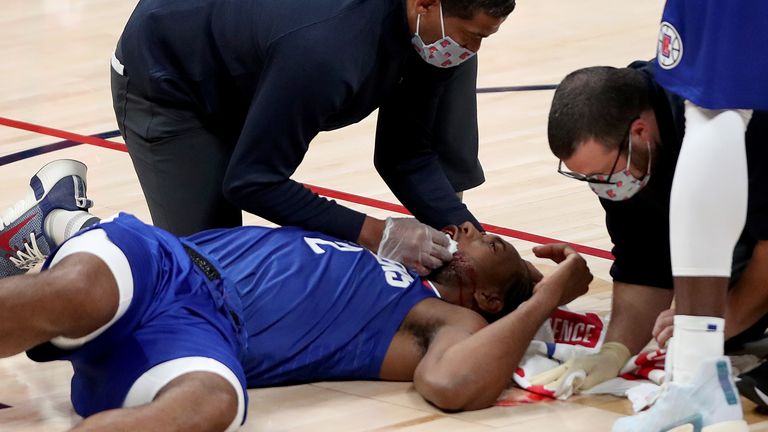 Paul George bounced 23 points and nine rebounds. Kawhi Leonard scored 21 goals before leaving in the fourth quarter, and Clipers from Los Angeles beat Denver Nuggets 121-108 on Christmas Day.
Leonardo went down after beating teammate Serge Ibaka in the arm at 6:11. He was bleeding before entering the dressing room and was eliminated for the rest of the race.
Ibaka scored 15 points. Nicolas Batum (13 goals) Ivica Zubac 12 points are from the Clippers.
In last season's Western Conference semi-finals, the Nuggets were inspired by a 3-1 series and seven games, with little revenge from Los Angeles.
Denver's Nikola Jokic has 24 points; It ended with 10 points and 9 rebounds. Jamal Murray is in his fourth quarter with 23 points. Wee Barton added 15 points, while Monte Morris scored 13 goals. Michael Porter Jr. scored 10 goals for the Nuggets.
The Clippers took the lead 32-26 after the first quarter and opened the second in the 9-2 run. Los Angeles scored three goals from Morris to move up to 14 points. Barton lost by three points to Denver in eight minutes. But Los Angeles managed to control the last eight minutes of the half.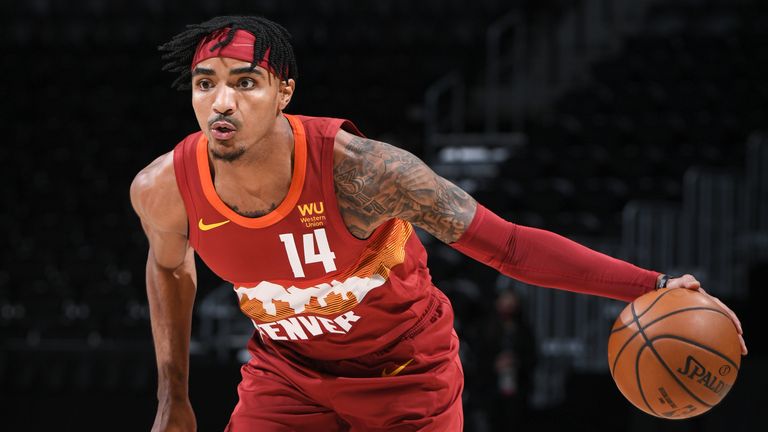 Leonard and Ibaka showed three points in a row, with Leonard leading by 36-40 points. In the first half of the first half, Patrick Beverly hit the third three of the clippers – one behind the arc arc.
With just 0.4 seconds left in the second quarter, Jokic's three points were 72-55 in the second half.
Leonard's second 3D game outscored the Clippers 79-58, but Denver lost to Gary Harris, Jokic's free-throw shot and Murray's image reinforced Los Angeles' time. Batum hit two of the three corners, and Lou Williams dropped the middle jumper to give the visitors a 93-72 climb, leaving 3:27 in the third quarter.
George's three-point lead surpassed the Clippers 21-8 between 106-95 and 106-95 before running for Denver with a 24-point lead.
Want to see more of the NBA and WNBA? But there is no Sky Sports. Get the Sky Sports Activity and Arena Package! Click here:
!function(f,b,e,v,n,t,s){if(f.fbq)return;n=f.fbq=function(){n.callMethod?
n.callMethod.apply(n,arguments):n.queue.push(arguments)};if(!f._fbq)f._fbq=n;
n.push=n;n.loaded=!0;n.version='2.0′;n.queue=[];t=b.createElement(e);t.async=!0;
t.src=v;s=b.getElementsByTagName(e)[0];s.parentNode.insertBefore(t,s)}(window,
document,'script','https://connect.facebook.net/en_US/fbevents.js');
fbq('set', 'autoConfig', 'false', '1476975859286489');
fbq('init', '1476975859286489', {
em: 'insert_email_variable,'
});
fbq('track', 'PageView');